[February-2023]Free 300-425 128Q 300-425 PDF and VCE Dumps Braindump2go Offer[Q52-Q85]
February/2023 Latest Braindump2go 300-425 Exam Dumps with PDF and VCE Free Updated Today! Following are some new Braindump2go 300-425 Real Exam Questions!
QUESTION 52
A wireless deployment in a high-density environment is being used by vendors to process credit card payment transactions via handheld mobile scanners. The scanners are having problems roaming between access points in the environment.
Which feature on the wireless controller should have been incorporated in the design?
A. RX SOP
B. 802.11w
C. AP Heartbeat Timeout
D. Application Visibility Control
Answer: A
Explanation:
https://www.cisco.com/c/en/us/td/docs/wireless/controller/85/configguide/b_cg85/advanced_wireless_tuning.html
QUESTION 53
A university is in the process of designing a wireless network in an auditorium that seats 500 students and supports student laptops.
Which design methodology should the university implement in the auditorium?
A. roaming design model
B. voice design model
C. location design model
D. high-density design model
Answer: D
Explanation:
https://www.cisco.com/c/dam/en_us/solutions/industries/docs/education/cisco_wlan_design_guid e.pdf
QUESTION 54
An engineer must gather requirements for an upcoming wireless design in a manufacturing facility. Which requirement causes concerns for the customer?
A. lossless roaming capability
B. email connectivity
C. high throughput multimedia applications
D. intermittent web traffic
Answer: A
QUESTION 55
An engineer must design a wireless voice network and is auditing the existing configuration.
Which two actions must be taken? (Choose two.)
A. Enable Platinum QoS profile on the SSID
B. Disable Coverage Hole Detection.
C. Ensure the switch ports trust DSCP QoS markings
D. Disable WMM on the QoS tab
E. Ensure that Client Load Balancing is enabled.
Answer: AC
QUESTION 56
A network has two Cisco WLCs and two Layer 3 gigabit Ethernet switches. The customer requires two gigabit connections from each Cisco WLC to each of the switches that have copper RJ-45 gigabit ports. What two additional hardware are needed to connect the Cisco WLCs to the network? (Choose two.)
A. Four straight-through Ethernet cables
B. Layer 3 switching module in each of the Cisco WLCs
C. Four copper SFPs must be added to the kit list
D. Two console cables
E. Four rollover Ethernet cables
Answer: AC
QUESTION 57
A company wants to replace its existing PBX system with a new VoIP System that will include wireless IP phones. The CIO has concerns about whether the company's existing wireless network can support the new system.
Which tool in Cisco Prime can help ensure that the current network will support the new phone system?
A. Location Readiness
B. Site Calibration
C. Map Editor
D. Voice Readiness
Answer: D
Explanation:
QUESTION 58
A rapidly expanding company has tasked their network engineer with wirelessly connecting a new cubicle area with Cisco workgroup bridges until the wired network is complete. Each of 42 new users has a computer and VoIP phone.
How many APs for workgroup bridging must be ordered to keep cost at a minimum while connecting all devices?
A. 4
B. 5
C. 6
D. 7
Answer: B
Explanation:
https://www.cisco.com/c/en/us/td/docs/wireless/controller/8-1/configuration-guide/b_cg81/workgroup_bridges.pdf
The WGB supports a maximum of 20 wired clients. If you have more than 20 wired clients, use a bridge or another device.
QUESTION 59
Which statement about the 9800 Series Wireless Controller mobility tunnel on a Cisco Catalyst 9800 controller is true?
A. It is an IPsec tunnel with control path only.
B. It is a CAPWAP tunnel with data path only.
C. It is a CAPWAP tunnel with control path and data path.
D. It is an IPsec tunnel with control path and data path.
Answer: C
Explanation:


QUESTION 60
An engineer has successfully configured high availability and SSO using two Cisco 5508 Wireless LAN Controllers. The engineer can access the Active Primary WLC, but the Secondary Standby WLC is not accessible. Which two methods allow access to the standby unit? (Choose two.)
A. via the console connection
B. SSH to the redundancy management interface of the primary WLC
C. SSH to the service port interface
D. SSH to the virtual interface of the secondary WLC
E. SSH to the management interface of the primary WLC
Answer: AC
Explanation:

QUESTION 61
As part of a wireless site survey in a hospital, an engineer needs to identify potential Layer 1 interferers.
In which two areas is the engineer most likely to find sources of 2.4 GHz and 5 GHz RF noise? (Choose two.)
A. magnetic resonance imaging
B. kitchen
C. Gamma Knife radiation treatment
D. X-ray radiography
E. patient room
Answer: BE
Explanation:
https://www.ciscopress.com/articles/article.asp?p=2351131&seqNum=2
QUESTION 62
What is the recommended cell overlap when designing a wireless network for Cisco Hyperlocation?
A. 20%
B. 30%
C. 40%
D. 50%
Answer: A
Explanation:

QUESTION 63
An engineer must create data-link redundancy for the company's Cisco Wireless LAN Controller. The engineer has decided to configure LAG-based redundancy instead of port-based redundancy. Which three features of LAG-based redundancy influenced this decision? (Choose three.)
A. Packets are always sent out on the same port they are received on.
B. All interface traffic passes as long as one port is up.
C. The same port has multiple untagged dynamics interfaces.
D. Interface connection to two separate nonstacked switches is available.
E. Full bandwidth of all links is available.
F. Ports are grouped into multiple LAGs.
Answer: ABE
Explanation:
https://community.cisco.com/t5/wireless-mobility-documents/lag-link-aggregation/ta-p/3128669
QUESTION 64
An engineer is performing a predictive wireless design for a medical treatment environment, which requires data and voice services. What is the minimum requirement for the design?
A. overlapping -72 dBm coverage from two access points
B. continuous -67 dBm coverage from one access point
C. continuous -72 dBm coverage from one access point
D. overlapping -67 dBm coverage from two access points
Answer: B
Explanation:



So -67dBm covers both Data & Voice with a single AP
QUESTION 65
A wireless engineer is doing a pre-site survey. Which two attributes must match between the site survey and the production clients? (Choose two.)
A. AP type
B. radio frequency
C. mobility patterns
D. user
E. exact location
Answer: AC
QUESTION 66
A customer requesting a site survey requires hidden APs, basic data coverage, and guest access in multifloor environment. Which industry vertical best describes this customer?
A. manufacturing
B. warehousing
C. hospitality
D. health care
Answer: C
QUESTION 67
You are designing a wireless network that contains many different types of wireless clients. How do you conduct a survey to ensure a consistent experience for all of the wireless clients?
A. by using the client that has the highest RF properties
B. by using the client that is used most by the company
C. by using a client of every different type
D. by using the client that is used least by the company
Answer: B
QUESTION 68
A wireless engineer is designing a wireless network to support real-time applications over wireless.
Which IEEE protocol mus the engineer enable on the WLC so that the number of packets that are exchanged between an access point and client are reduced and fast roaming occurs?
A. 802.11w
B. 802.11r
C. 802.11i
D. 802.11k
Answer: B
Explanation:

QUESTION 69
A network administrator of a global organization is collapsing all controllers to a single cluster located in central Europe. Which concern must addressed?
A. Some channels may not be available consistently across the organization.
B. Different RF policies per office are not available in this configuration.
C. Syslog must be configured to the time-zone of the NMS platform.
D. Centralized controllers cannot uniformly authenticate global users.
Answer: C
Explanation:
https://www.cisco.com/c/en/us/td/docs/wireless/controller/technotes/86/b_Cisco_Wireless_LAN_ Controller_Configuration_Best_Practices.html
QUESTION 70
An engineer must ensure that the new wireless LAN deployment can support seamless roaming between access points using a standard based on an amendment to the 802.11 protocol.
Which protocol must the engineer select?
A. 802.11i
B. 802.11ac
C. 802.11r
D. 802.11e
Answer: C
Explanation:


QUESTION 71
A high-density wireless network is designed. Which Cisco WLC configuration setting must be incorporated in the design to encourage clients to use the 5 GHz spectrum?
A. Band Select
B. RRM
C. Cisco Centralized Key Management
D. load balancing
Answer: A
Explanation:

QUESTION 72
A network engineer is preparing for an office site survey with a height of 2.5 meters.
Which three components are recommended to complete the survey? (Choose three.)
A. Use a battery pack to power APs
B. Use a drawing of the office space to draw AP and client placements.
C. Use DoS attack on APs while measuring the throughput.
D. Use APs with directional antennas.
E. Use APs with external antennas.
F. Use APs with built-in antennas.
Answer: ABF
Explanation:
https://www.cisco.com/c/en/us/td/docs/wireless/technology/mesh/84/b_mesh_84/Site_Preparation_and_Planning.html#ID3405
QUESTION 73
A wireless engineer must optimize RF performance for multiple buildings with multiple types of construction and user density. Which two actions must be taken? (Choose two.)
A. Configure FlexConnect groups for each building.
B. Configure WMM profiles for each building.
C. Configure AP groups for each area type.
D. Configure RF profiles for each area type.
E. Enable DTPC on the network.
Answer: CD
Explanation:
https://www.cisco.com/c/en/us/td/docs/wireless/controller/8-10/configguide/b_cg810/configuring_ap_groups.html
QUESTION 74
A wireless engineer is hired to design a network for a technology company. The company campus has four buildings and a warehouse with access points that provide full wireless coverage as well as a pair of WLCs located in the core of the network.
Which type of wireless architecture is being used?
A. unified deployment
B. autonomous deployment
C. centralized deployment
D. distributed deployment
Answer: C
Explanation:



QUESTION 75
Which option is an enhancement of enabling WMM on an AP?
A. All access classes use the same IEEE 802.11 sequence number.
B. It disables U-APSD Power Save.
C. Each access class has its own IEEE 802.11 sequence number.
D. CAC is reserved for voice calls only.
Answer: C
QUESTION 76
An engineer is upgrading the legacy access points to 802.11ac Wave 2 capable access points. The existing gigabit uplinked switches provide 802.3at. Which switch limitation is a concern?
A. collision domains
B. high availability
C. output power
D. interface throughput
Answer: D
Explanation:
As the wave 2 Aps need 802.11at, the switches looks fine. Wave2 Aps support multigigabit, then the throughput.
QUESTION 77
An engineer must ensure that the wireless network can accomplish fast secure roaming by way of caching keys on the access points. Which key caching mechanism is enabled by default on a Cisco AireOS WLC?
A. SKC
B. OKC
C. 802.11r
D. CCKM
Answer: B
Explanation:


QUESTION 78
A technician connects a Cisco Aironet 3700 Series access point to a switch and realizes that the AP is coming up with 3×3 MIMO. Which reason explains this behavior?
A. A redundant power supply is unavailable on the switch.
B. The switch is 802.3af capable.
C. The AP is getting power from a power injector.
D. The switch is PoE+ capable.
Answer: B
Explanation:


QUESTION 79
A network engineer is working on a design for a wireless network that must support data, voice, and location services. To support these services, which access point placement must the engineer use?
A. corner only
B. perimeter and corner
C. perimeter only
D. indoor and outdoor
Answer: B
Explanation:


QUESTION 80
Refer to the exhibit. Which two statements about Cisco Prime Infrastructure are true? (Choose two.)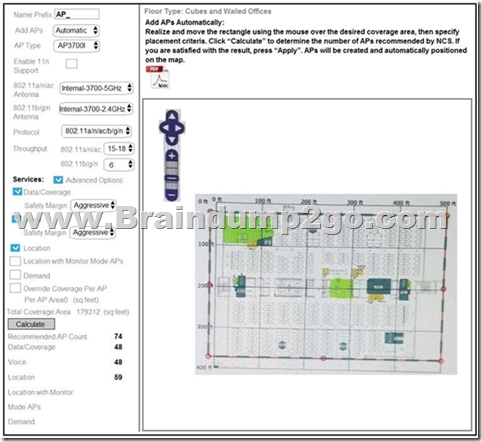 A. It presents the recommended number of APs for the selected coverage area based on the selections made.
B. Planning mode requires a special license in Cisco Prime Infrastructure.
C. It shows the map editor feature in Cisco Prime Infrastructure.
D. Controllers must be synchronized with Cisco Prime Infrastructure for planning mode to work.
E. It shows the planning mode feature in Cisco Prime Infrastructure.
Answer: AE
Explanation:


QUESTION 81
An engineer is trying to determine the most cost-effective way to deploy high availability for a campus enterprise wireless network that currently leverages three wireless LAN controllers.
Which architecture should the engineer deploy?
A. N+1 solution without SSO
B. N+1 with SSO
C. N+N solution without SSO
D. N+N with SSO
Answer: A
Explanation:
N+N is not cost-effective and it is an 'extremely expensive solution, so it has to be one of the N+1 options to meet this requirement.
QUESTION 82
During a post deployment site survey, issues are found with non-Wi-Fi interference.
What should the engineer use to identify the source of the interference?
A. Cisco Spectrum Expert
B. wireless intrusion prevention
C. Wireshark
D. network analysis module
Answer: A
Explanation:
https://www.cisco.com/c/en/us/products/collateral/wireless/spectrumexpert/product_data_sheet0900aecd807033c3.html
QUESTION 83
Refer to the exhibit. An enterprise is using wireless as the main network connectivity for clients. To ensure service continuity, a pair of controllers will be installed in a datacenter.
An engineer is designing SSO on the pair of controllers.
What needs to be included m the design to avoid having the secondary controller go into maintenance mode?

A. The keep alive timer is too low which causes synchronization problems.
B. The connection between the redundancy ports is missing.
C. The redundancy port must be the same subnet as the redundancy mgmt.
D. The Global Configuration of SSO is set to Disabled on the controller.
Answer: B
Explanation:
https://www.cisco.com/c/en/us/td/docs/wireless/controller/technotes/8-1/HA_SSO_DG/High_Availability_DG.html#pgfId-105076
After the WLCs are configured with Redundancy Management and Peer Redundancy Management IP Address and Redundant Units are configured, it is time to enable SSO. It is important to make sure that physical connections are up between both the controllers (that is, both the WLCs are connected back to back via Redundant Port using an Ethernet cable) and the uplink is also connected to the infrastructure switch and the gateway is reachable from both the WLCs before SSO is enabled.
Once SSO is enabled, it will reboot the WLCs. While it boots, the WLCs negotiate the HA role as per the configuration via Redundant Port. If the WLCs cannot reach each other via the Redundant Port or via the Redundant Management Interface, the WLC configured as Secondary may go in Maintenance Mode. Maintenance Mode is discussed later in this document.
QUESTION 84
Campus users report a poor wireless experience. An engineer investigating the issue notices that in high-density areas the wireless clients fail to switch the AP to which are automatically connected. This sticky client behavior is causing roaming issues.
Which feature must the engineer configure?
A. load balancing and band select
B. optimized roaming
C. Layer 3 roaming
D. Layer 2 roaming
Answer: B
QUESTION 85
An engineer changed me TPC Power Threshold for a wireless deployment from the default value to 65 dBm. The engineer conducts a new post deployment survey to validate the results.
What is the expected outcome?
A. increased received sensitivity
B. decreased channel overlap
C. decreased client signal strength
D. increased cell size
Answer: D
Explanation:
---
Resources From:
1.2023 Latest Braindump2go 300-425 Exam Dumps (PDF & VCE) Free Share:
https://www.braindump2go.com/300-425.html
2.2023 Latest Braindump2go 300-425 PDF and 300-425 VCE Dumps Free Share:
https://drive.google.com/drive/folders/116pgsScHZoMX_x10f-SEvzUZ9ec2kgWd?usp=sharing
Free Resources from Braindump2go,We Devoted to Helping You 100% Pass All Exams!