Free Download Latest 2014 Pass4sure&Lead2pass CIW 1D0-610 Dumps (51-60)
QUESTION 51
Sampson has used HTML5 to create a Web page that contains image-based navigation buttons. He would like to add text-based navigation to help ensure accessibility. Which of the following HTML5 elements should he use?
A.    <aside>
B.    <footer>
C.    <header>
D.    <article>
Answer: B
QUESTION 52
Michelle wants to search for a scuba regulator. She plans to use a keyword search engine. She does not want to see any results from the manufacturer named Scubapro. Which of the following search strings should she use?
A.    Regulators !Scubapro
B.    Regulators Scubapro
C.    Regulators <Scubapro
D.    Regulators >Scubapro
Answer: A
QUESTION 53
The Internet has enabled many new anti-social activities, such as online stalking, cyber bullying, and addiction to solitary online activities. Which choice is the most feasible way for schools and parents to reduce cyber bullying?
A.    Monitor, track and record all online activity conducted by students.
B.    Teach teens that the use of online communication is a freedom of expression.
C.    Prevent students from accessing the Internet while at school so that they learn good habits.
D.    Educate students about cyber-ethics and the consequences of questionable online behavior.
Answer: D
QUESTION 54
You are leading a team of new hires and need to train them on innovative strategies and technologies that will be used to develop an upcoming project. You send several e-mail messages with links to helpful resources. But you soon realize this is an inefficient way to organize and share this information. Which solution would provide a more efficient way to categorize and share this information?
A.    Social tagging
B.    Grid computing
C.    Ajax programming
D.    Collective intelligence
Answer: A
QUESTION 55
Consider the network configuration shown in the command prompt: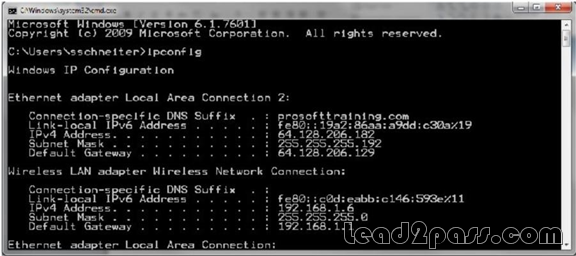 What does the Default Gateway identify?
A.    The file server on the network
B.    The local host on the network
C.    The computer on the network
D.    The router on the network
Answer: D
QUESTION 56
You are distributing a large video game file using BitTorrent. First, you upload the initial file and make it available via a central server called a tracker. Other users can then connect to the tracker and download the file. Each user who downloads the file makes it available to other users to download. The use of BitTorrent significantly reduces the original provider's hardware and bandwidth resource costs. BitTorrent is an example of what type of network?
A.    Centralized network
B.    Client-server network
C.    Peer-to-peer (P2P) network
D.    Virtual private network (VPN)
Answer: C
QUESTION 57
You are configuring an e-mail client to connect to your e-mail account. Which of following is required to set up the e-mail account?
A.    An HTTP address
B.    An FTP address
C.    ADNS server address
D.    A POP3 address
Answer: D
QUESTION 58
Which type of attack is a form of social engineering in which an attacker attempts to steal personal or confidential information by sending e-mail that lures unsuspecting victims to log in to an authentic-looking but imposter Web site?
A.    Replay
B.    Phishing
C.    Spoofing
D.    Pharming
Answer: B
QUESTION 59
Katie developed her corporation's intra net site using proprietary HTML language extensions based on the company's current browser. The company has recently updated its systems to include the use of a new browser. Now the intra net site that Katie developed no longer renders its content consistently. What should Katie do to ensure that this site's content renders consistently regardless of the browser used?
A.    Revise the site to include workarounds and hacks for the new browser.
B.    Revise the site's markup language in only those areas that are not rendering properly.
C.    Update the site using a single language standard consistently, such as HTML5 or XHTML.
D.    Update the site using the proprietary language extensions required by the new browser's rendering engine.
Answer: C
QUESTION 60
Gabby suspects that an attacker has gained control of her system. Which of the following is the most appropriate action for her to take?
A.    Shut down the computer.
B.    Enable strong encryption on all files on the hard disk.
C.    Run anti-virus software on all disks associated with this system.
D.    Unplug the computer network cable and/or disable the computer's wireless NIC.
Answer: D
If you want to pass CIW 1D0-610 successfully, donot missing to read latest lead2pass CIW 1D0-610 exam questions.
If you can master all lead2pass questions you will able to pass 100% guaranteed.